Gas Generators Tethersondes Cloud Sensors General
History
Anasphere, Inc. was founded by Dr. John Bognar in 2002 to develop atmospheric instrumentation for small airborne platforms. Our first products were the AnaSonde series of radiosondes released in 2006, followed by the SmartTether tethersonde system in 2007. Specialized sensor development resulted in sensors for supercooled liquid water content (SLWC) in 2011, and Anasphere was an R&D100 Award Finalist for the SLWC sensor in 2015 after being nominated for the award by NASA Glenn. Subsequently, an above-freezing liquid water content sensor was developed in 2016, and a Univeral Water Content sensor able to quantify all condensed phases of water was finalized in 2022. An Air Force project in 2011 initiated our gas generator work, which has resulted in a scalable hydrogen gas generator suitable for the inflation of meteorological balloons and other structures. Inflation of Hypersonic Inflatable Aerodynamic Decelerators (HIADs), a NASA application, has become a major application of our hydrogen gas generator technology.
Equipment and Resources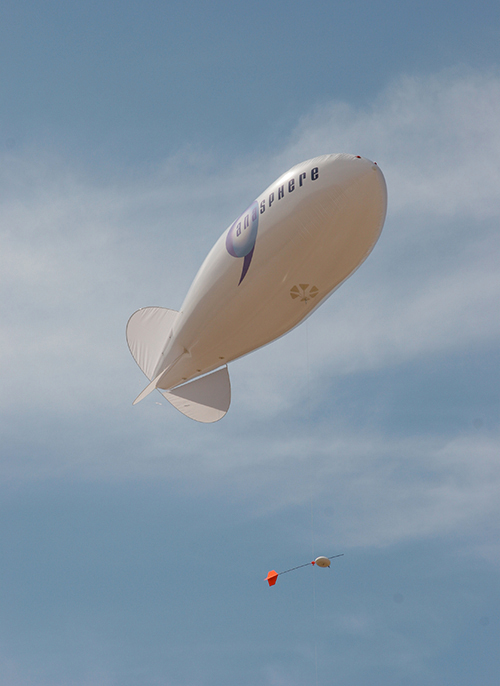 Anasphere is equipped for both field and laboratory work. Anasphere has blimps, kites, and winches to support the operation of tethered profiling systems. Free-flying radiosondes and high-altitude driftsondes are also in our inventory. We have routinely deployed sensors from zero-pressure balloons at altitudes around 100,000 feet. In the laboratory, a key capability is a 44-ft long closed-circuit icing wind tunnel which enables us to test cloud sensors in realistic cloud conditions, including icing conditions. Extensive chemical laboratory capabilities support the development of chemistry-based atmospheric sensors and gas generator technologies. Gas generator testing and balloon flights are facilitated by six acres of open space around our facility.
©2023 Anasphere, Inc.